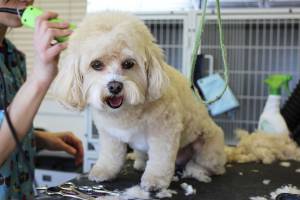 Grooming
Here at Kritter Kastle we have the best of the best groomer. She has the knowledge, experience and dedication to keep your furry family members looking great.
Our groomer is a 2005 graduate of Wisconsin School of Professional Pet Grooming. She has been working as a professional groomer since March of 2005. Each groom includes toenail trimming, ear cleaning, and gland expression.Proof of shots from your vet are required. Dogs need to be up to date on Rabies and Distemper (DHLPP) and cats need to be updated on Rabies and Feline Distemper (FVRCP).
To schedule a grooming appointment or inquire about pricing please call or stop by today!